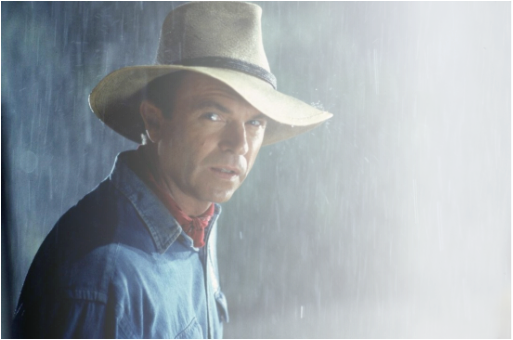 Sam Neill and the 90s horror gestalt
Sam Neill…
I'm going to assume that you might not know who that is by name. I'll give you a second to Google him.
…back?
Yes, THAT guy. Dr. Grant from Jurassic Park, Damien Thorn from the little seen Omen III: The Final Conflict.(Hey, for what it's worth, it was a cool idea for a trilogy ender.). Was up for James Bond when Timothy Dalton took over the role (
https://www.youtube.com/watch?v=rfGz-_iI23g
)
I would have loved to see that. I think we would have been spared all those Bondless years.
Now, Sam Neill worked in the 80s.(Dead Calm, anyone?). But his 90s output shows a maturity and a natural wit. The 90s was an interesting decade. The Cold War had wound down. Bill Clinton oversaw a successful economy, and the 80s horror holdovers of Jason, Freddy, and Michael didn't fare as well in this brave new world. Several attempts at new franchise characters were attempted.
Most of these were failures. Some weren't. Anyone remember Warlock and Wishmaster?But, there were some great discoveries in horror. Guillermo Del Toro stunned international filmgoers with Cronos and Mimic (Does Charles S. Dutton ever survive a horror film?)….
A director named Paul W.S. Anderson graduated from his debut effort, a film based on Mortal Kombat. To Event Horizon, that rarest of film types. The haunted spaceship film. It's not like this hasn't been tried before, 1987s Nightflyers was another variation on this theme. And that one was based on a George R.R. Martin (Game of Thrones fans, take note.)
Science fiction and horror are genres that seldom work together. Unless your careless humans are picked off one by one by some alien creature or mutated one, it's unlikely to work. Case in point, 1981's Galaxy of Terror. A pretty good idea with lots of pedigree. Sid Haig, Zalman King, Robert Englund, Erin "Joanie Cunningham" Moran and matte paintings by James Cameron. Unfortunately low production value undercuts any real scares.
Event Horizon is a divisive film. I've heard everything from "a beautiful mess" to "The Definitive haunted spaceship film". I found it to be interesting on all levels. I call it the first 'quantum horror' film.
**SPOILERS IF YOU HAVEN'T SEEN THIS FILM FIX THAT IMMEDIATELY**
1) It isn't a perfect film, by any means. It has some problems immediately. A VERY 90s techno opening title sequence that moves over to a nearly pointless opening scrawl. Some character that have the wrong actors(Jack Noseworthy? Jason Issacs, that's right kids, Lucius Malfoy was a doctor.) Some things that seem a little out of left field, an ambiguous ending that seems tacked on, there are plenty of problems. But those problems give the film character, like a scar. What saves the film is the ideas. I always felt that the idea of a singularity would be a compressed version of all space and time, perfect chaos, i.e. hell.
2) Latin: I picked up a little Latin while studying things. "Liberate Me" I translated that immediately. The same with "Liberate Tute Me ex Inferis", and "Ave Atque Vale"
3) When the "Grav couches" are activated I looked at my friends and said "See you in about two months." I was greeted by the text scrawl informing the audience "Lewis and Clark, 56 days out."
"How did you know that?" Asked my friends.
"Ten Gs acceleration, Io, sounds about right." Science nerd moment.
Before he was Morpheus, He was here. Just after Deep Cover (Anyone else remember Larry Fishburne in Nightmare on Elm Street 3: Dream Warriors?) Captain Miller seems confused, only totally understanding when another crew member tells him that he's confused. Many of the others are there only as archetypes, with back stories that seem muddled or under explained. Se7en's Andrew Walker did an uncredited polish on the screenplay, but I get the feeling that much was left on the cutting room floor.
The CGI isn't compelling, but this movie has a sense of creeping dread that other films can't emulate very well. The claustrophobia inherent in an environment like space is enough.
But the rug that ties the room together is Sam Neill. His Dr. Weir is a scary character. Starting as a grieving widow racked with the guilt of pursuing his obsession and neglecting his wife to the point of suicide. When he finally succumbs to the ship near the end you sympathize with him in his final momets.
The 90s was also the last gasp of several formerly popular horror directors. Wes Craven was on the decline, and John Carpenter's They Live was the only positive blip of positivity after the twin failures of Big Trouble in Little China and Prince of Darkness(We both know better than that now though, don't we?). Somehow, he found time to make the best Lovecraft film not based on Lovecraft.
In The Mouth Of Madness.
A missing author, an insurance investigator, and a town that isn't what it seems to be; Missing children, a black church, and a reality that may or may not be coming apart at the seams. This film doesn't throw guts at the screen or go for the easy scare. This is a genuinely disturbing film that got under my skin. By far in my opinion the best horror film of the 90s. One original idea after another, with the lines blurred between book and film, reality and fiction. Neill this time plays a protagonist we can sympathize with, watching his reality deteriorate further and further. Also of note is Hayden Christensen as the kid on the bike.
"I can't get out, he won't let me out." I think he was talking about George Lucas, how prescient is that?
Neill makes just about every film he's in better, even improved Daybreakers a couple of notches. These films comprise the most memorable horror films of that decade. While others remain in the pop culture vernacular, like Scream or any random serial killer film, these were bold and risky films. In lesser hands ITMOM would have likely been a miserable failure. Carpenter's only success after this was Vampires, primarily due his luck in opening Halloween weekend.
Neill hasn't been as good since (Except for his turn on the now defunct Alcatraz). And neither has horror. Oh, sure there have been some good ones, the advent of Torture Porn, and horrible DTV films have only served to water down a market that no longer rewarded innovation.(Leprechaun in the Hood, anyone?) This trend has started to reverse. But no films have come close to these two, and no actor could have driven these films as well as Neill.
Keep watching from behind your hands!!!
by:
Robert Pollock
---