The Four State Slasher Con is a horror convention with a rock festival twist, bringing music, celebrity signings, vendors, live entertainment, and film screenings of some of the best local horror films around to the 4 state region of the I-81 corridor!
Come meet fellow horror fanatics OCT 16th & 17th and try and SURVIVE the first annual FOUR STATE SLASHER CON!!!
Head on over to our official
The Four State Slasher Con
page to stay up to date with all of the latest news and guest info!
10/06 UPDATED INFO: Pre sale Ticket link below! Save $5 on any ticket type!
TICKETS
http://www.secretsocietypress.com/four-state-slasher-convention
Directions & Parking:
http://www.brightboxwinchester.com/about/directions-parking
Please Check this post for updates and info, including cancellations, additions of guests and schedule changes.
SCHEDULE
ALL guests and vendors will be at the event both dates. Some sponsors will be as well.
Movies will be running on both days, bands will be split between the two days, more info below.
Pageant is on Saturday! Info can be found here, You can sign up on Friday or Saturday, but it is advised to sign prior to the show, you also do need a ticket to the convention to participate!
https://www.facebook.com/pages/The-Miss-Slasher-Sweetheart-Pageant/977218208965666





Come Join the Monster Mania Family
Back in 2011 I decided to attend my very first horror convention ever. I had collected autographs through the mail and purchases for years, but never had i gone to an actual convention of any kind. So I took to the endless black hole of knowledge the internet, and began searching for a convention of some sort that was close to where I live. It didn't take me long to find one, Monster Mania 17. Was only an hour and a half from my house and wouldn't you know.. they were doing a convention in two months. So I started planning out my trip, picking which guests i wanted to meet, budgeting, and all the fun stuff us convention goers live for. That was more than 3 years ago and that excitement I felt has not fell off one bit since then.
Monster Mania is a horror convention that is held at least 3 times a year. There are two shows in Cherry Hill, NJ and at least one sometimes two shows in Hunt Valley, MD every year. It is put together and run by a true horror fan himself. A guy that after leaving a convention many years ago decided he wanted to make a convention that was more than just a few vendor rooms and a few celebrities. Somewhere horror fans could go and have a ton of options as far as what to do while at the convention. And let me tell you he created just that. From bringing in thirty to forty celebrity guests a show, to having tons of vendor tables setup selling all kinds of one of a kind items, to having horror movies play all day long until midnight or one or two in the morning in multiple theatres, to doing things like costume contests and movie short contests, vip parties, auctions to support good causes like Save A Yorkie, to the best darn q&a panels put together, halloween parties, and the list goes on and on. This is a convention for true horror fans. The venue is also the hidden gem behind the con. With nice comfy rooms, a nice hangout spot in the lobby, a beautiful tent room where weddings are held, and more room than needed but not so big that you feel like you couldn't possibly see everything.
And then there are the fans !! True horror fans are the greatest fans in the world. You would think that a convention filled with thousands of people who can watch a zombie eating guts, all while eating a bowl of cereal themselves at 3 am, would not be nice people. But my friends you would be wrong. In the three years I have been attending Monster Mania conventions I have made so many friends. True friends, people i now consider to be family. Life long friends that you can find no where else but at a horror convention. Whether it is lending a helping hand to someone who just dropped a poster cause their hands are full or answering the question asked a million times at a con.. Who's line is this or helping someone who has had a weee to much to drink find a place to sit down. You will never find a nicer bunch of blood & guts loving, flesh and bone ripping, horror breathing and sleeping people anywhere else on the planet than you will at Monster Mania.
So if you love everything there is horror, wanna have a great time at a place where you can always find something amazing to get into no matter the time, meet a bunch of awesome friendly people, and make your very own convention family, than please try to get to a Monster Mania convention. You will not regret it, believe me, and we would be happy to have another Monster Maniac in the family !!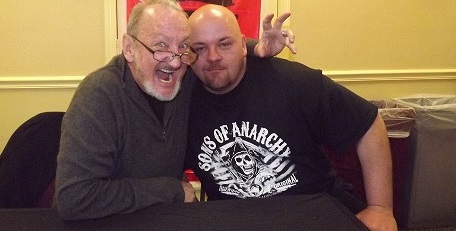 ---
HorrorHound, it's not a convention...
It's an experience!




















Back when I was sixteen years old I attended my very first convention in home state of Massachusetts. I still remember being completely floored. Here was an event filled with hundreds of people wearing the same T-shirts I owned. Hundreds of people who would be standing around discussing the same movies I loved, and could carry a heavy yet playful debate on who played the best Angela in the Sleepaway Camp films or which Nightmare On Elm Street featured the best makeup on Freddy. An event where vendors were selling rare posters from your favorite films, lobby cards, buttons, and yes awesome out of print movies you hadn't seen in years! An event where actors from some of your favorite childhood movies are sitting at tables selling autographs and taking photos with you. Just think, being able to take a photo with Dee Wallace Stone and gush about how much adored Critters and The Howling. Quickly I learned the ropes of how cons worked. Way back in 2006 the regular rule was 20$ for an autographed 8X10 and a photo with the actor. 10 for just a photo or getting your own item signed. I knew once I walked out of there conventions are expensive, but call me a total fan girl...I didn't mind dishing out money to meet these people. Movies, mostly horror movies were a HUGE part of my childhood, so never before did I know I could meet people from The Monster Squad, Gremlins, T2, The Lost boys, and Fright Night. As a huge collector, mostly VHS tapes this was also a fun place to go and actually track down rare items and trade. Right away I knew this was a place I could be myself, meet new people, and nerd out without being judged. Right after doing Rock & Shock I began attending the Monster Mania shows, and even Chiller in New Jersey. I enjoyed how different the shows were run, and how you usually ran into the same people who attended the same shows whenever it was convention season. In fact I've met some of my closest friends due to horror conventions. Even the ones I just met for one show were by far the nicest and coolest people ever. These are down to earth people who can nerd out with you, help take photos with you, wait in line, and even get shit faced at the hotel bar with you. Now that's what I call bonding!

Back in 2010 when I was away at effects school in PA I got the chance to staff my very first HorrorHound show in Ohio. Back in 2007 I bought my very first issue of HorrorHound magazine and was instantly in love since they were mostly focused on the classic movies from the 60's, 70's, 80's and 90's. Sure there was currant reviews, coverage, and interviews on new movies, but for the most part they focused on films and television from the past that were classics in many people my own age's eyes. In fact I was even featured as one of the collector's spotlights back in 2008 when I submitted photos of my movie den downstairs in my house. Even at school some random person recognized me just from that issue! Thanks HorrorHound! So of course always having to buy the latest issue in print, I had always been very interested in the shows that were held in the mid-west. It always seemed they got the greatest line-ups, and judging from the photos it always looked like a great time. So the moment I was offered to join some of my friends to work it I jumped at the offer. That weekend seriously goes down as one of the funniest weekends I had back at school. In fact I had never in all the past conventions I had attended, had such a great time. The hotel it was held at was cozy, and had the two biggest vendor rooms I had ever walked into. In fact, this hotel had an indoor water park. Yep, you read right...an indoor water park. Every early twenty-something year old's dream. You can drink and swim? Yes please! The people behind the show were by far the kindest, and friendliest people around. They instantly made me and my friends welcome and I had a complete blast helping out. In fact, the same group of people who staff it come back for every show and over the years I've gotten to know everyone and think of them as my horror family. The coolest, nicest, and by far most welcoming people around. They make the 15 + hour drive worth it every time. These guys are amazing, and after my first show I was back staffing it just a few months later.

HorrorHound takes place twice a year now mostly in September which is held in Indy (my personal favorite show) and then again in March in Ohio. Just last month I drove out with some friends and staffed the Ohio show and can't wait to come back for September. I've had the complete pleasure of being part of the staffing team and being able to attend these shows and see how awesome and big they have gotten over the last few years. My heart breaks whenever I can't make it to a show (me and my friend Jeanette nearly died when we missed working the Jamie Lee Curtis show) but as soon as I come back it feels as though I've never been gone. The vendors are filled with amazing tables from different companies and artists. My dream is to someday start selling my effects work and figures at this show. Trust me, I never leave a show without having to buy something, and never have I walked out of there without finding something amazing and rare! The guest list always offers some of the best talent around and even though the shows have gotten huge due to the walking dead guests, they still offer actors from some of the best horror movies of the past. In fact this September show all ready looks insane!

With amazing Q&A panels, movie screenings, contests, and even musicals! HorrorHound constantly has things to offer. Let it be the pool party, music performers, costume contests, and much much more. HorrorHound in my eyes is the funniest most insane weekend a horror fan can have. I urge anyone to go and kick back and enjoy themselves. So hopefully I'll be seeing some of you this fall! We'll knock back some beers, and watch in craziness unfold!

- Stacy Still
---